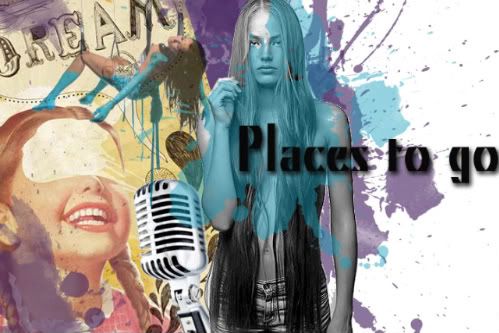 Here we are again in the middle of the work week! By this time one starts thinking what the wonderful weekend will bring for them! I would love to offer some great solutions to free your mind from the hustle of your everyday life!

This weekend is full of art! Two very unique shows will be happening this Friday and Saturday.

First off on Friday ISM will be hosting

INSTANT GRATIFICATION

! This show is made up for thousands of Polaroids submitted by tons of different people. This should be a great tribute to the Polaroid we all know, love and are sad to see pass.

Info:

INSTANT GRATIFICATION: opening reception
Friday August 7th, 7:00 - 10:00 PM

POLAROID PARTY. FREE DRINKS. FREE FOOD.
Over 1,000 Polaroids from around the world.
Hibbleton Gallery 112 West Wilshire, Fullerton 92832

For more information visit ISM http://www.ismcommunity.org/polaroidparty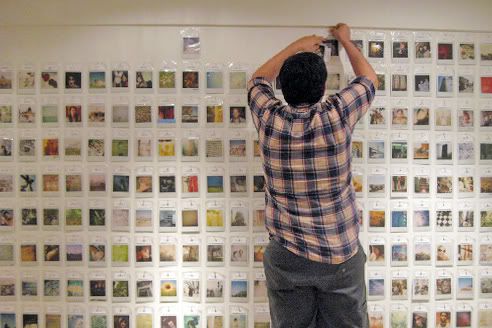 Then on Saturday OC Weekly will be hosting

Decadence

. This show will have amazing submitted art as well as live art sessions by different artists!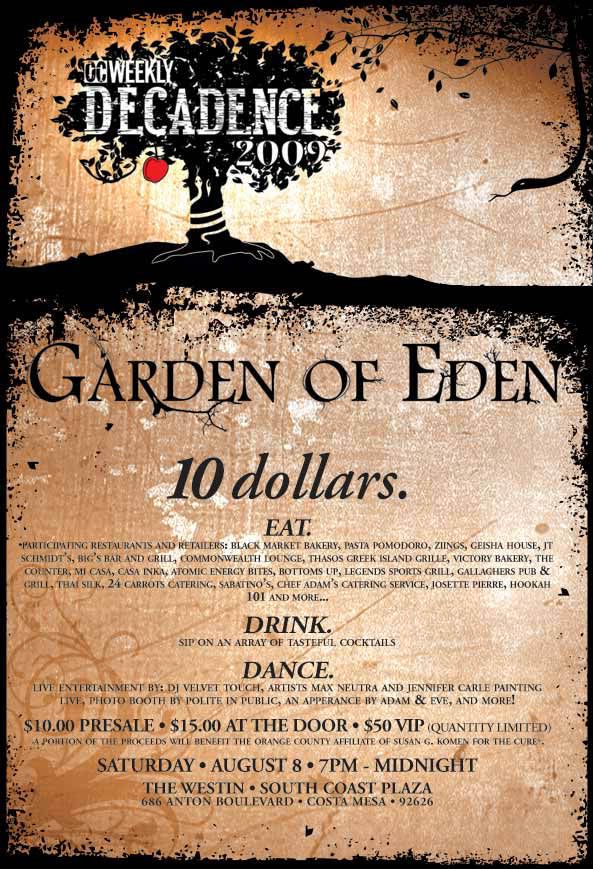 Not only that but you get to sample food from a selection of restaurants including: Slidebar, Black Market Bakery, RA, JT Schmidt's, Big's Bar and Grill, Commonwealth Lounge, Thasos Greek Island Grille, Victory Bakery, The Counter Burger, Mi Casa, Casa Inka, Atomic Energy Bites, Bottoms Up, Legends Sports Grill, La Cave, Sabatino's, Geisha House, Gallaghers, Perla's, Silk Thai Cuisine, 24 Carrots Catering, Sabatino's, Chef Adam's Catering and Events, Hookah 101, Josette Pierre, and more!

Of course there will be something to drink! There will be an array of cocktails to choose from!

Plus don't forget the great music you get to dance too as well as a fabulous photobooth to capture your night out!




A portion of the proceeds will benefit The Orange County Affiliate Of Susan G. Komen for the Cure. For more info visit http://www.komenoc.org.


Saturday, August 8, 2009 at 7:00pm to midnight.

Hosted by OC WEEKLY

Westin South Coast Plaza
686 Anton Boulevard
Costa Mesa, CA

Tickets are $10 presale and $15 at the door. To purchase tickets, visit: http://www.ocweekly.com/decadence

I will be attending both events so come say hello! Do something different this weekend and get out of the club for a few days and get some culture! I'll be sure to snap some photos of you :)

Ciao!